In today's fast-paced world, efficient package management is crucial for apartment complexes, university campuses, and retail locations. Parcel Pending, a leading provider of smart locker systems, offers a range of solutions to cater to different needs and budgets. This detailed review will delve into the features, benefits, and potential drawbacks of Parcel Pending smart lockers here, helping you decide if they are the right choice for your specific situation.
Table of contents
Suggested Posts
As online shopping and e-commerce continue to rise, property managers and businesses are faced with the challenge of handling an increasing volume of packages. Parcel Pending lockers aim to streamline this process by providing a secure, convenient, and efficient solution for managing package deliveries and pickups. Let's explore the key features that make Parcel Pending lockers stand out.
Key Features
Built-in Security
One of the primary concerns when dealing with packages is security. Parcel Pending lockers address this issue with a tamper-proof design. Each locker can only be accessed using a unique code or QR code sent to the recipient's email or phone, ensuring that only authorized individuals can retrieve their packages.
Automated Delivery
Parcel Pending lockers simplify the package delivery process for carriers. When a package is delivered, the carrier places it in an available locker. The recipient is then notified via email or text message, complete with the locker location and access code. This automation reduces the time and effort required to collect and manage package deliveries manually.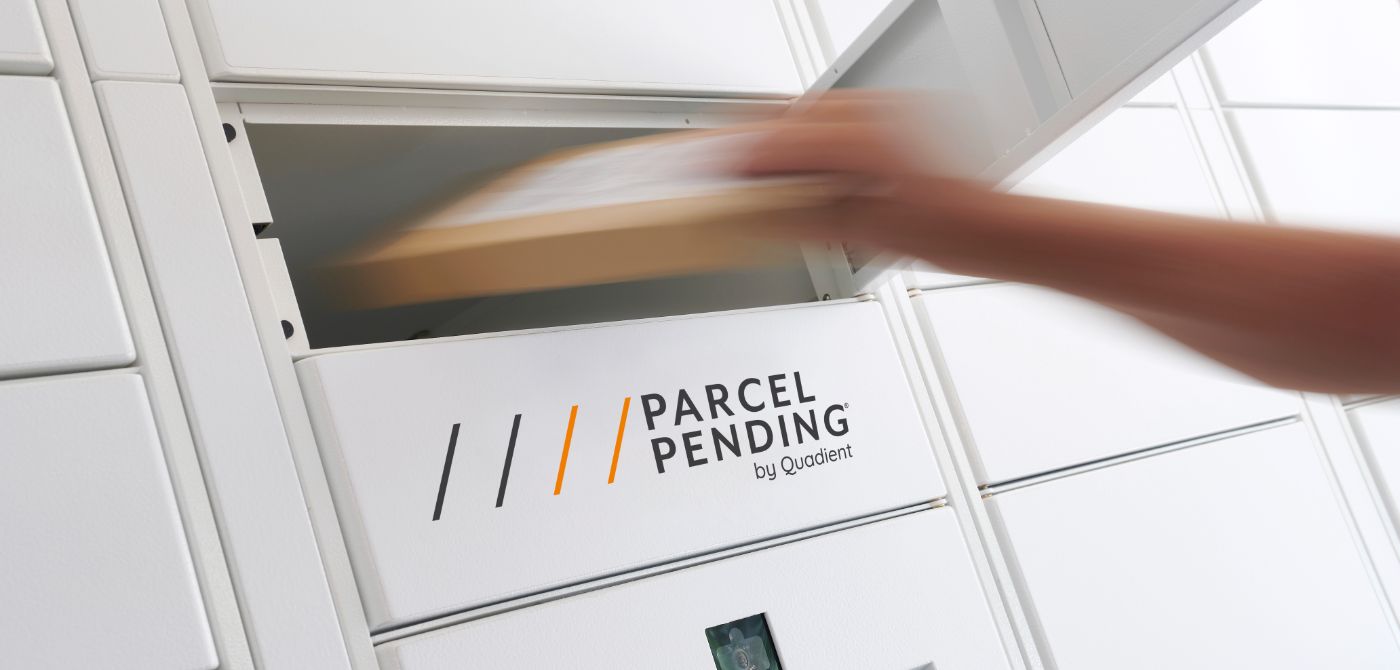 24/7 Access
Recipients can pick up their packages at any time, day or night, thanks to the 24/7 access provided by Parcel Pending lockers. This flexibility eliminates the need to rely on office hours or staff availability, ensuring a more convenient experience for recipients.
Remote Monitoring
Property managers and administrators can keep track of locker usage, status, and performance through a centralized dashboard app or mobile app. This remote monitoring capability enables them to address any issues promptly and maintain a smooth package management process.
Customization
Parcel Pending lockers can be customized to match the aesthetics and branding of your residential property or business. You can choose from various colors, logos, and designs to create a locker system that blends seamlessly with your environment.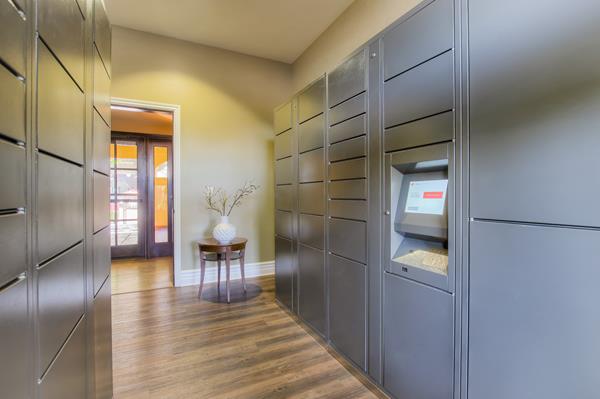 Business Intelligence
Understanding package volume, carrier performance, and recipient behavior can help you optimize your package management process. Parcel Pending offers data analytics tools and services that provide valuable insights into these metrics, enabling you to make data-driven decisions.
Types of Lockers by Parcel Pending
Parcel Pending offers a variety of locker solutions designed to cater to different needs and preferences. With their extensive range of locker types, Parcel Pending ensures a convenient and secure package management experience for users across various sectors. In this section, we will discuss the different types of lockers offered by Parcel Pending.
These lockers are designed for general-purpose use and are suitable for most residential, commercial, and educational settings. Standard lockers come in various sizes and customizable designs, offering a secure solution for storing and retrieving packages of different shapes and sizes.
Oversized lockers are perfect for handling larger packages that do not fit into standard-sized lockers. With their spacious design, these lockers can accommodate bulky and unusually-shaped items, ensuring that all packages are safely stored and easily accessible.
Refrigerated lockers are specifically designed for temperature-sensitive items such as groceries, beverages, and medications. These lockers maintain a consistent temperature between 35°F and 46°F, ensuring that perishable items are kept fresh and safe until pickup.
Outdoor lockers are constructed with weather-resistant materials and are designed to withstand the elements. These lockers provide a secure and convenient package management solution for properties with limited indoor space or those looking to offer additional package pickup locations.
5. Custom Lockers
Parcel Pending understands that each property has its unique requirements and aesthetic preferences. Custom lockers are designed to blend seamlessly with the property's branding and design, offering a tailored package management solution that complements the property's overall look and feel.
Benefits of Parcel Pending Lockers
Reduced Package Management Workload
With automated delivery and 24/7 access, Parcel Pending lockers significantly reduce the time and resources required to manage packages manually. This efficiency minimizes the occurrence of lost or misdelivered packages, making the package management process more reliable.
Enhanced Resident or Customer Satisfaction
By offering a convenient and secure package delivery and pickup service, Parcel Pending lockers can improve the overall experience for your residents or customers. This enhanced satisfaction can, in turn, increase loyalty and encourage positive word-of-mouth.
Increased Efficiency and Productivity
Parcel Pending lockers can help alleviate congestion, waiting times, and interruptions caused by package deliveries or pickups. By streamlining these processes, lockers can improve overall efficiency and productivity for both staff and residents.
Better Security and Compliance
The built-in security features and digital tracking system of Parcel Pending lockers can help reduce package theft, damage, or liability issues. This improved security is essential for maintaining compliance and protecting your property or business from potential legal problems.
Cost-effectiveness
While the initial investment in Parcel Pending lockers technology may seem high, the long-term savings in labor costs, storage space, and package handling errors can make it a cost-effective solution in the long run.
Drawbacks of Parcel Pending Lockers
Initial Setup and Integration Complexity
Configuring the hardware, software, and integrations with carriers, property management systems, or resident apps may require technical expertise and coordination. The initial technology setup and app integration process can be complex and time-consuming, which might be a concern for some property managers or businesses.
Not Suitable for All Properties or Situations
Parcel Pending lockers may not be feasible or desirable for every property or business. Factors such as size, location, and demographics can influence the suitability of lockers for your specific situation. For example, properties with limited space or those catering to high-end clientele may find that lockers do not fit their aesthetic or customer service standards.
Some Recipients May Prefer Traditional Delivery
While Parcel Pending lockers offer a convenient option for most residents or customers, some may still prefer to receive packages at their doorstep or interact with staff for personalized service. It's essential to consider the preferences of your target audience when deciding whether to invest in lockers.
Conclusion
Parcel Pending lockers can be a valuable tool for property managers, businesses, and residents looking to streamline and improve their package management process. By providing secure, automated, and 24/7 access to packages, lockers can enhance convenience, efficiency, and satisfaction. However, it's crucial to evaluate your specific needs, budget, and preferences before investing in lockers.
When deciding whether to invest in Parcel Pending lockers, consider factors such as the initial setup and integration complexity, the suitability of lockers for your specific property or business, and the preferences of your residents or customers. It's also important to work with a reputable provider who can offer reliable support and customization options to ensure the success of your locker system.
In conclusion, Parcel Pending lockers can be an effective solution for many properties and businesses looking to improve their package management process. By weighing the benefits, services and drawbacks outlined in this review, you can make an informed decision about whether Parcel Pending lockers are the right choice for you.
PARCEL PENDING USER GUIDE: FREQUENTLY ASKED QUESTIONS (FAQs)
What if my package requires a signature?
Parcel Pending does not sign for packages. If your package requires a signature, the courier will be directed to your apartment to attempt delivery. If you are not home, the package will go back with the courier. It is recommended to coordinate with the courier when signatures are required.
How do I contact Parcel Pending?
You can contact Parcel Pending at 855-316-4756 or help@parcelpending.com. They are available 24 hours a day, 365 days a year.
Who should sign up for Parcel Pending?
Anyone who receives packages should register for Parcel Pending. You can have up to 10 people, such as roommates, registered to each account or have them create individual accounts.
What if my package is too big to fit in a locker?
You will receive a delivery notification with information on how to pick up your oversized package. Note that your community does not accept packages in the offices. Packages that do not fit within the lockers will be taken back to the courier's hub.
Why do I need to put in my card information?
Due to the limited amount of lockers, packages can only be stored for up to 3 days. If your package is left in the locker for more than 3 days, you will be charged a $3 storage fee per day.
What if I lose my access code or never received one?
You can log in to your account at fairbridgecommons.com/residents and view your package history on "Parcel History" page to view the access code for your delivery. Alternatively, contact Parcel Pending at help@parcelpending.com or (855) 316-4756, and they can provide you with your access code.
What if I receive an "invalid code" message when trying to retrieve my package?
Follow the troubleshooting steps provided in the user guide. If you are still unable to access your package, contact Parcel Pending at (855) 316-4756.
What if the door closes before I can retrieve my package?
Contact Parcel Pending at (855) 316-4756 or email help@parcelpending.com. They can reset your access code so you can retrieve your package from the locker.
What if I can't reach the tallest lockers?
When registering with Parcel Pending, you can select the setting to have packages delivered below 4 ft.
What if I don't sign up for Parcel Pending?
If you do not sign up for Parcel Pending, you will not receive packages; only letters will be delivered to your mailbox.
Where is my package?
The location of your package depends on the courier. Some common couriers are FedEx, UPS, OnTrac, USPS (United States Postal Service), etc. Follow the instructions provided in the user guide to track your package based on the courier.
What if my locker is empty?
Follow the instructions provided in the user guide to locate your package. If you are still unable to find your package, contact Parcel Pending at (855) 316-4756, and they will look into your situation.
For more FAQs, please visit parcelpending.com/faqs
Upgrade Your Building Security
Get in touch with a Swiftlane specialist for more information on the best access control and video intercom solution for your building.