Apartment Video Intercom for Modern Visitor and Resident Access
Upgrade your building callbox to Swiftlane intercom. Visitors can reach residents on a video call. A resident can now open doors with face unlock, a mobile app and voice commands.
Multi-Tenant Video Intercom
Touchless Face Recognition Access
High vandal resistance for urban environments
Mobile App Door Unlock
40% cheaper than other video intercoms
Download Swiftlane Video Intercom PDF
Serving Thousands of Apartments and Condos Swiftlane Multi-Tenant Video Intercom
Give access to visitors and package deliveries securely and conveniently.
Visitors can browse and call a tenant through the touch screen directory

The resident receive a wireless video or a telephone call

They can remotely unlock doors for visitors, even when not at home

A resident can see who is at the door, before letting them in
We store photo audit log of visitors, to deter theft and increase security
Request a Quote For Your Building
Mobile App Access for Residents
Offer mobile app based access as an amenity to residents.
Keep forgetting your keys? Just use the Swiftlane app to unlock building doors

Remotely let visitors and deliveries into the building

Works alongside your key fobs and keys

Use Siri voice commands to unlock doors instantly
Book a Demo
Touchless Face Recognition Door Access
Worried about losing or forgetting your keys? Just use your face to get into the building.
Residents can enroll their face through the Swiftlane mobile app quickly
Simply present your face to the reader and unlock the building doors
Most preferred form of access on Swiftlane, due to it's convenience and security
Never worry about getting locked out from forgetting keys or fobs
No need to fumble to search for your keys
Built with safeguards for your privacy and data
LEARN MORE
Video Calls as well as Telephone Calls
By providing both video calling and traditional landline calling, Swiftlane meets the needs of all residents, even people who may not be carrying a smartphone.
Eliminate cost of landline subscriptions, saving $100-$175/month
Residents can choose between video calls or traditional phone call
Remotely unlock doors through the app or by pressing 9
Supports both cellphone and landline calls
Swiftlane vs Alternative Video Intercoms
Swiftlane Video Intercom
Video Intercom - Full Screen Video Calls
Face Unlock for Doors
Supports for Landline/Telephone Calls
Face Unlock, Mobile, PIN, Voice Unlock Options
100% Satisfaction Return Guarantee
Highest Vandal Resistance Rating (IK10)
Vandalism Replacement Insurance
Connects into Amazon Key for Business
Works with USPS Postal Lockbox
Cellular Internet Fallback
Parallel Calls to Residents in a Unit
Loitering Photo Logs
Building Announcement Feature for Residents
Unlimited Users Per Unit
Data Security and Privacy Certifications
Free Property Management Integrations
Resident Move-in and Move-out Workflows
Integration with CCTV Cameras
Intercom price between $2200-$2800
Live View from the Door
Siri Voice Unlock
Resident Can Call Back to the Intercom
Automatic Over the Air Software Updates
Multi-tenant Video Intercom
Mobile App Based Access
One time PIN for Food Deliveries
Recurring PINs for Package Delivery
Customizable Display Names on the Intercom
Cloud Based Photo Logs for Visitors
Alternative Video Intercoms
Push Notifications for Intercom Calls
No Face Unlock
No Landline/Telephone call support
Only Mobile and PIN entry
No Satisfaction Return Guarantee
No Vandal Resistance Certifications
No Vandal Replacement Insurance
Not connected with Amazon Key for Business
Not compatible with USPS Keybox Access
No Cellular Backup
Single Call Per Unit
No Loitering Logs
No Building Announcement Feature
Limited Number of Users Per Unit
No Data Privacy Certifications
Paid/Missing Property Management Integrations
No Move-in/Move-out workflows
No CCTV Integrations
Intercom Price Between $3900-$7000
No Door Live View
No Siri Voice Unlock
No Door Callback Functionality
Automatic Over the Air Software Updates
Multi-tenant Video Intercom
Mobile App Access
One time PIN for Food Deliveries
Recurring PINs for Package Delivery
Customizable Display Names on the Intercom
Cloud Based Photo Logs for Visitors
Serving Property Managers and Owners Nationwide
Eliminate Package Theft and Ensure Secure Deliveries
Thoughtful product design to enable secure and convenient handling all types of deliveries
01.
Package Delivery Companies
For UPS, Fedex and other recurring deliveries, use Swiftlane to generate a reusable PIN with photo logging. This will give delivery drivers access to the building entry, and maintain photo log of all activity
02.
One time PINs for Secure Food Delivery
Food deliveries use random drivers each time. Residents can create a single-use PIN and provide that in the delivery instructions for Drivers. This gets deactivated after the initial usage, avoiding leaking pins.
03.
Postal and Fire Emergency Access
Swiftlane works with USPS key switches which are commonly used in buildings for mail person access. We can also provide a unique PIN for USPS access. It also works with emergency fire dept access systems.
04.
Amazon and Key for Business
Swiftlane Intercom can connect into Amazon Key for Business module, or you can generate a unique PIN for Amazon Drivers
05.
Securing Package Rooms
With package lockers constantly overflowing, access control is needed for giving access to the package room. Swiftlane can provide secure entry to the package room for both delivery drivers as well as resident access, along with photo logs for high security
Designed to protect your investment
Swiftreader X comes with IK10 rating, the highest rating for impact protection

Ensures that your investment can last for decades to come

Swiftlane also provides free vandal replacement insurance

IP65 rated for weather protection

Works in extreme heat and cold
Get a Quote
Beautifully Designed With Vandal and Impact Protection Guarantee
Swiftlane is designed and reinforced for vandal protection resistance and is IK07 impact rated. Hardware features custom security screws, strong aluminum enclosure, and additional theft and vandal protection insurance available.
Swiftlane Video Intercom Features
High-Quality Video Calling

Reliable, 1080p HD video calling. High-quality video offers better security and verification.

Temporary Visitor Access

Assign unique six-digit single-use or multi-use PINs for visitors or deliveries. Easily revoke PINs immediately.

Remote Door Unlock

Use the Swiftlane mobile app from anywhere to remotely grant access to visitors and unlock doors.

Integrated Access Control

Reliable mobile access allows users to open doors with just a click on a smartphone. Option to upgrade to face recognition access.

Scalable for Multiple Buildings and Admins

Centrally manage multiple buildings from a single cloud-based dashboard. Add multiple admins to create a virtual front desk that can be managed from anywhere.

Real-Time Security Monitoring

View all door access in real-time via cloud-based dashboard. Prevent unauthorized access with a visual audit trail and tailgating alerts.

Remotely Answer Intercom Calls

Swiftlane app allows picking up a call from anywhere. Calls are received as a regular phone call without the need to monitor app push notifications. Traditional intercom systems only work when you are in the building.

Versatile, Beautiful Hardware

SwiftReader is compact and easily mountable with a 7.75″ design with robust metal enclosure in matte, dark gray finish. The hardware is IK07 rated for impact protection. Sunshade enclosure also available.


Easy Installation, Onboarding, and Updates

Swiftlane is U.S. based and sold through local installers who provide installation and ongoing support. Automatic software updates eliminate constant need for expensive maintenance.

Watch a One Minute Overview of Swiftlane Video Intercom
An explainer video that shows all the key features of Swiftlane video intercom, including resident and visitor access methods. Start here to learn more.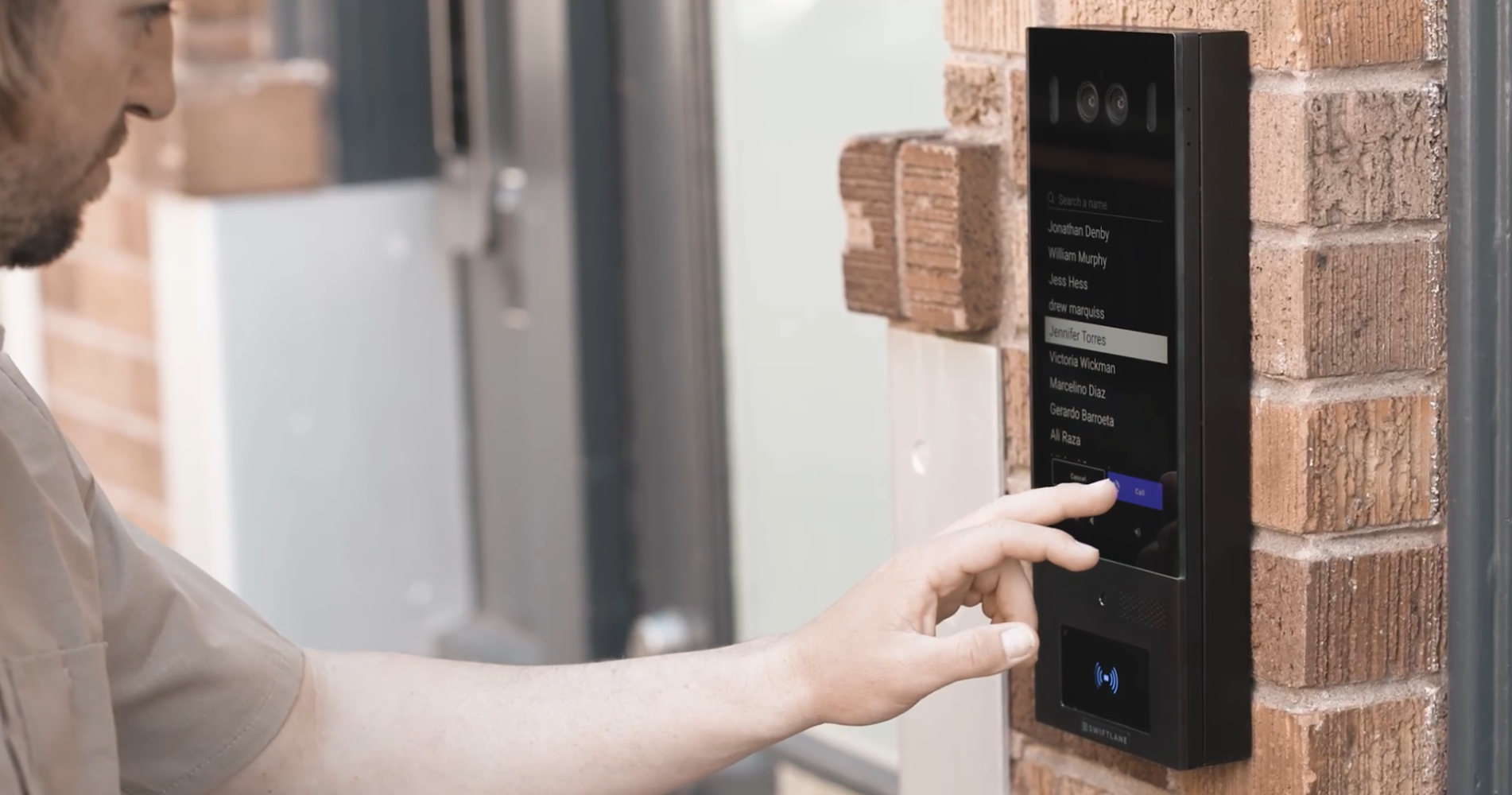 Learn More About Swiftlane's Features
Get a Quote
Please share more details about your building so we can find the perfect solution for you!