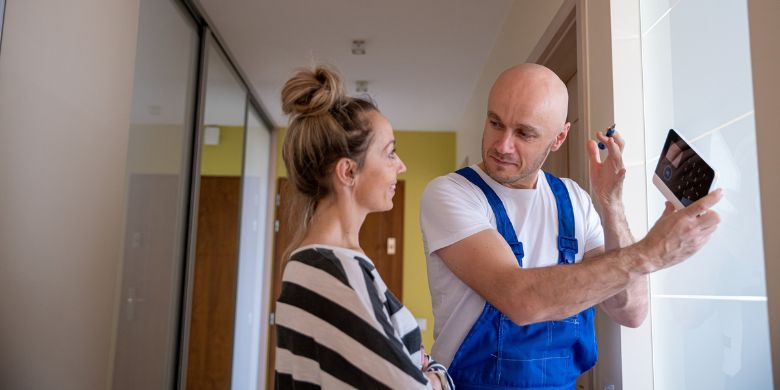 Table of contents
Suggested Posts:
When it comes to building intercom installation, finding a reliable and trustworthy vendor is crucial. This comprehensive guide will help you navigate the world of intercom installation and select a vendor that's perfect for your needs.
Research and Reviews
Do online research on potential vendors

Read customer reviews and testimonials
Check their industry experience and reputation
Get Multiple Quotes
Request quotes from at least three different vendors

Compare their offerings and prices
Don't be afraid to negotiate
Vendor Credentials
Verify the vendor's credentials

Check for proper licensing and insurance
Ask for references from previous clients
Quality of Products
Inquire about the quality of intercom products they offer
Do they have both modern and legacy options?

What are their security features and warranty policies?
In-Person Consultation
Schedule an in-person consultation

Observe their professionalism and customer serviceAssess their expertise and knowledge of various intercom systems.
By following these steps, you'll be well on your way to finding the perfect building intercom installation vendor. Remember to do thorough research, consider multiple quotes, verify credentials, and insist on a consultation to make sure you're making the right decision for your property.
Exploring Various Types of Building Intercom Systems
Investing in a building intercom system is a significant decision that requires careful consideration of the various options available in the market. By exploring different types of intercom systems, you can identify one that perfectly aligns with your property's requirements, the specific needs of your tenants, and your budget. The three primary kinds of building intercom systems are wired intercom systems, telephone callboxes, and video intercoms.
Wired Intercom Systems
A traditional and reliable method of communication
Requires physical wiring throughout the building
Cost-effective, but can be challenging to install in older buildings
Limited in features compared to modern alternatives
Telephone Callboxes
Connects to a traditional phone line for communication
Allows visitors to call residents directly from the entrance panel
The easy installation process, but may lack advanced security features
Limited use with the prevalence of mobile phones
Video Intercoms
Gaining popularity due to advanced features and heightened security
Utilizes cameras for live video feeds, enabling face-to-face communication
Can integrate with smartphones and mobile apps for added convenience
May require a more substantial initial investment but offers long-term benefits
By thoroughly understanding the strengths and weaknesses of wired intercom systems, telephone callboxes, and video intercoms, you can make a more informed decision about the most suitable intercom solution for your building.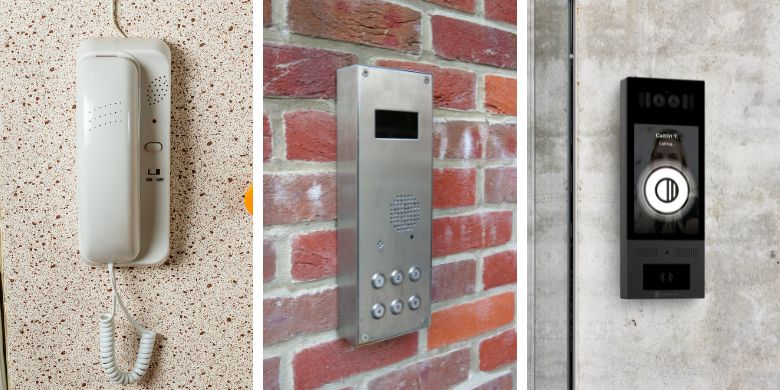 While all systems have their unique advantages, the trend is leaning towards modern video intercoms for their advanced features, improved security, and the convenience they offer to residents. Therefore, investing in a video intercom system could provide you with a comprehensive, future-proof solution that enhances your building's security while also improving its appeal to potential tenants.
Modern vs. Legacy Building Intercom Products
When it comes to choosing an ideal intercom system for your building, it's essential to understand the critical differences between modern and legacy products. In this section, we will analyze the advantages and drawbacks of both types, taking into consideration factors like upfront costs, remote management capabilities, and overall user experience.
Modern Intercom Systems: Video-based Solutions
Advanced features: Access control, live video feeds, facial recognition, and smartphone integration
Remote management: Manage building access and communication via convenient mobile apps
Enhanced security: Real-time video surveillance for added peace of mind
Upfront Costs: Often higher than legacy systems, but with more long-term benefits
Legacy Intercom Systems: Telephone Line-based Solutions
Limited features: Restricted to basic audio communication and door-unlocking functions
Minimal remote management: Most systems do not offer remote access or control
Lower security: No visual confirmation of visitor identity
Upfront costs: Generally more affordable than modern systems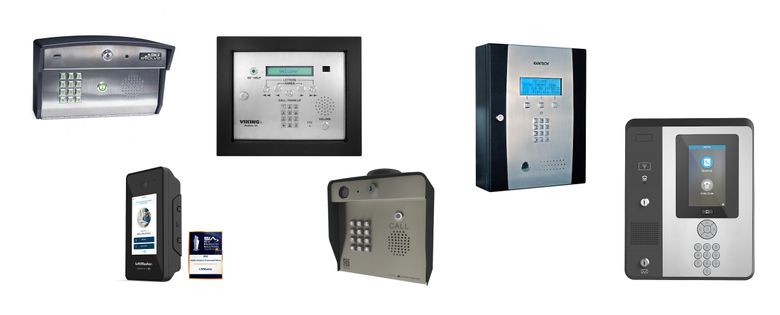 Telephone Entry Systems
In conclusion, modern video-based intercom systems provide a wealth of advanced features and security measures while offering remote management, making them the ideal choice for many buildings.
Although legacy telephone line-based systems may have lower upfront costs, they are outweighed by the benefits and convenience of a modern, video-based solution. To ensure you choose the best intercom product for your building's specific needs, carefully consider the pros and cons of each option.
Getting the Right Quote: How to Find a Local Installer or Manufacturer
When it comes to shopping for building intercom products, it's crucial to obtain the right quote from a reputable source. There are two primary methods to do that: searching for a local installer or approaching manufacturers directly. In this section, we'll offer tips on making the best choice for your building and provide considerations for selecting the right installer or manufacturer for your needs.
Finding a Local Installer
Use Google to search for local intercom installers
Look for reviews and ratings from previous clients
Reach out for a customized quote
Ask about their experience with different intercom systems
Evaluate their customer service and response time
Approaching Manufacturers Directly
Research intercom system manufacturers online
Contact them for a quote and discuss your specific needs
Compare product offerings and warranties
Inquire about any recommended installers in your area
Making the Right Choice
Consider factors like product quality, installation experience, and warranty terms
Weigh the pros and cons of each option
Keep your building's specific requirements in mind
Don't forget to negotiate!
By thoroughly researching local installers and manufacturers, you can ensure that you make an informed decision when selecting the best building intercom vendor for your needs. Remember, it's essential to compare and contrast your options to find the right fit for your building's unique requirements.
Must-Have Features and Considerations for Building Intercoms
When shopping for a modern building intercom system, it's essential to evaluate your options based on factors like security, hardware, warranty, and ease of use. Here are some of the must-have features and considerations to keep in mind when making your decision:
Connectivity and Integration
Compatibility with cell phones and mobile apps
Integration with existing security systems and smart home devices
Remote access and control capabilities
Security Features
Video surveillance for visual confirmation of visitors
Access control options for different levels of security
IP and IK vandal protection ratings to ensure durability against external factors
Hardware and Design
Aesthetically pleasing design that complements your building's style
High-quality materials that can withstand wear and tear
Intuitive user interface for residents and visitors
Warranty and Support
Comprehensive warranty coverage for peace of mind
Responsive customer support for troubleshooting and technical issues
Ongoing firmware updates to maintain compatibility with modern technology
By considering these essential factors, you'll be better equipped to find the perfect intercom system for your building. Remember, investing in a high-quality, intuitive, and secure intercom system is not only beneficial for your residents but also adds value and security to your property.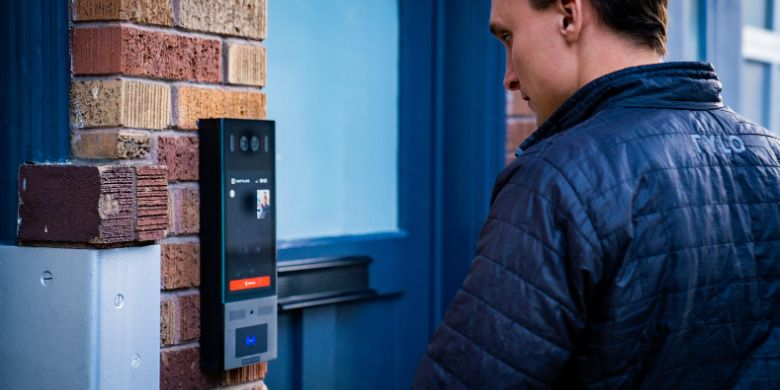 The Benefits of Video Intercoms with Cellular Connectivity
Modern technology is transforming the way we secure and manage our buildings. Video intercoms that leverage internet-based technology, such as VOIP (Voice Over Internet Protocol) and WebRTC (Web Real-Time Communication), offer a range of compelling advantages over legacy telephone callbox systems. Let's dive into the key benefits of these cutting-edge intercoms that excel in connecting with cell phones and mobile apps.
Enhanced Security and Convenience
Visual confirmation: Video intercoms allow you to see who's at the door, ensuring a higher level of security than audio-only systems.
Remote door unlocking: Unlock doors directly from your smartphone, providing convenience for both residents and visitors.
Accessible from anywhere: Monitor and manage building access, regardless of your location, with mobile app integration.
Improved Flexibility and Customization
Tailor-made solutions: Video intercoms can be customized to suit your specific security needs and preferences.
Easy scalability: Internet-based technology allows for seamless expansion, making it ideal for growing buildings and communities.
Frequent updates: Stay up-to-date with the latest security innovations through regular software updates.
Future-Proof Technology
Compatibility: Video intercoms easily integrate with existing security systems and smart home devices.
Adaptable: As technology evolves, so do video intercom systems, ensuring you're always at the forefront of building security. Embracing video intercoms with cellular connectivity not only enhances the security and convenience of your property, but also sets the stage for a modern, connected, and user-friendly experience for residents and visitors alike. Investing in these innovative systems is a smart decision that will pay off in the long run.
Enhancing Building Security and Value with Modern Intercom Solutions
Investing in modern intercom systems not only bolsters your property's security but also provides added value by appealing to Gen Z and millennial renters who prioritize mobile-first amenities. In today's connected world, upgrading to advanced intercom solutions can greatly enhance your property's overall appeal and worth. Here's how:
Catering to the Needs of Gen Z and Millennial Renters
Mobile-first amenities: Offer must-have features like smartphone integration and remote access for tech-savvy renters.
Enhanced security: Modern intercom systems ensure peace of mind with video surveillance and access control options.
User-friendly interfaces: Prioritize ease of use and intuitiveness with sleek, visually appealing designs and interfaces.
Connecting with Property Management Systems
Streamlined processes: Seamless integration with property management software for efficient building operations.
Automated maintenance: Connect intercom systems with maintenance request tools to expedite and track service calls.
Increased Property Value and Appeal
Attractive to potential renters: Modern intercom systems serve as a valuable selling point for prospective tenants.
Future-proof investment: Stay ahead of the curve by adopting cutting-edge technology designed to adapt as innovations emerge. By upgrading to an advanced intercom solution, you not only provide added security for your building but also cater to the desires of prospective renters, resulting in an enticing, dynamic, and sought-after property that continues to appreciate.
How Swiftlane Works
Swiftlane simplifies access control for residents, property managers, real estate brokerages, and landlord representation. Our cloud-based end-to-end smart technology provides access to every point in a building using video intercom, face recognition access, mobile access, visitor PINs, key card access and voice-enabled unlock.
Conclusion
Navigating the complex landscape of building intercom systems can be a daunting task, but with the right knowledge and preparation, you can select a solution that significantly enhances the security and appeal of your property. Whether you're considering wired intercom systems, telephone callboxes, or video intercoms, each has its own merits and drawbacks. By thoroughly understanding the capabilities and limitations of each type, you can make an informed decision that best suits your building's specific requirements.
Modern intercom systems have emerged as a compelling choice due to their advanced features, heightened security, and the ability to integrate seamlessly with mobile apps and smart home devices. In addition, they offer the benefit of visual confirmation of visitors, which is a significant enhancement over audio-only systems. These cutting-edge intercoms not only provide an elevated level of security but also offer a user-friendly experience for residents and visitors alike, making them a worthy investment for future-proofing your property.
The value of an advanced intercom system extends beyond security. For properties looking to attract tech-savvy renters, offering mobile-first amenities such as smartphone integration and remote access is crucial. Modern intercom systems fit this bill perfectly, offering a blend of high-tech features, ease of use, and sleek aesthetics. Furthermore, their ability to integrate with property management software enables streamlined operations and maintenance. By investing in such a system, you are enhancing the value and appeal of your property, ensuring it remains competitive in today's fast-paced, technology-driven rental market. In conclusion, choosing the right intercom system is about finding a balance between cost, functionality, and future-proofing, keeping the unique needs of your property and residents in mind.
Get a Swiftlane Quote
Tell us about your building and we'll help you find the best solution.